Introduction to Sri Kalahasti
This is one of the prime shrines dedicated to Lord Shiva which is opened during Solar and Lunar Eclipse. This place has enormous significance, as many Gods, Goddess, holy men and people from various facets of life did their penance and received multifold of blessings. Over many centuries, malefic planetary positions and other challenges in life due to planets and its transitions were able to overcome by the benevolence of this shrine. It is observed that practicing Hindus from all parts of the world would come and do Pooja to get remedies.
Rahu, Ketu Planets
Rahu is one of the nine celestial bodies. Rahu is always paired with Ketu. Every day certain period is under the influence of this planet, knows as Rahu Kala, which is considered as inauspicious. According to Indian mythology, Rahu and Ketu have an orbital cycle of 18 years and are always 180 degrees from each other orbitally.
Once Devas and Asuras were churning the milk ocean to extract "Amrita", the elixir of immortality. Mohini, an incarnation of Lord Vishnu in the form of a young girl started distributing Amrita to all the Devas. Svarbhanu, an Asura sat in the row of Devas and drank the Amrita. As Svarbhanu already had Amrita, he became immortal and can not be killed. Mohini beheads Svarbhanu with Sudarshan Chakra and separates the head and the body as Rahu and Ketu.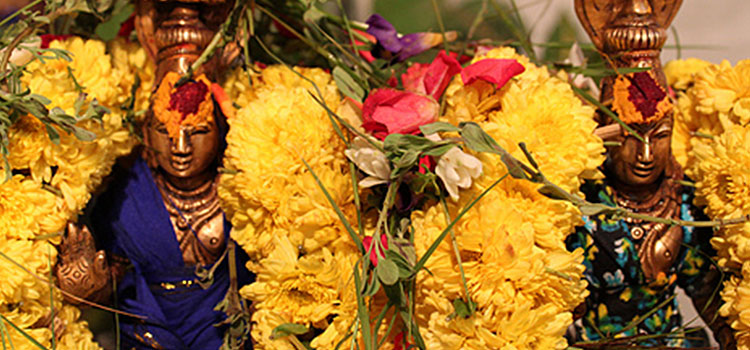 Sri Kalahasti Rahu Ketu Pooja
Rahu Ketu Pooja is performed to nullify the negative impacts of the Planets Rahu and Ketu. The Pooja is performed in batches at the temple hall with a separate entry and exit doors. Upon completing the Pooja, one should leave for Lord Shiva Darshan inside Temple. Temple priest will guide according to the "Agama Rituals", which will be repeated in Tamil, Telugu, and English. It takes about 20-25 minutes for the entire Pooja to complete.
Kala Sarpa Dosha
A person suffering from this dhosha will have delays in marriage. They will find it difficult to lead a happy life. Delays in getting pregnant are also indicated. Financial loss and loss due to accidents and partings with our dear ones also occur.
Timings for Rahu Ketu Pooja and Kala Sarpa Dosha
The temple will start at 5.30 in the morning and closes around 8.30. The Pooja will last for 30 to 40 minutes and performed during Rahu Kalam (Poison Time).
Day Rahu Kalam
Sunday – 4.30 PM to 6 PM
Monday- 7.30 AM to 9 AM
Tuesday- 3 PM to 4.30PM
Wednesday – 12 Noon to 1.30 PM
Thursday- 1.30 PM to 3 PM
Friday – 10.30 PM to 12 PM
Saturday – 9 PM to 10.30 PM
Procedure to be followed for Pooja
1) A day before Pooja, it is advised to sleep on the floor (Not Mandatory)
2) Post the early morning bath, it is advised to reach the temple early and participate in the "Abishekam" of all the major deities
3) After Abishekam, it is essential to take part in the rituals and procedures, directed by the priest
4) Donating food packets will bring positive results
5) It is not mandatory to discard the used clothes after the Pooja