Introduction to Sri Kalahasti Temple
Sri Kalahasti Temple is devoted to Lord Shiva, which lies in the Chittoor district in the South-Eastern state of Andhra Pradesh, India. This is one among the "Pancha Moorthy Stalam", dedicated for the major five elements of the universe namely, Earth, Sky, Fire, Water, and Air. This is a "Vayu Stalam", dedicated for the Lord Shivas's incarnation as fire. This is also highly renowned for being the "Sri Kalahasti Mandal Headquarters", situated in Tirupati Revenue Division. Sri Kalahasti. This is one of the oldest temples in India and built during the Pallava Period.
History & Legend of Sri Kalahasti Temple
This temple has a splendid piece of history connected to it, which dates back to "Kretha Yuga", the time period connected to the early days of creation. Vayu was penancing to "Karpoora lingam"(Camphor), for more than thousand years. As Lord Shiva was highly pleased with Wind God Vayu's penance, he appeared before him and granted him three boons to reward his penance. Lord Vayu expressed his first wish to be present everywhere in this world. His second wish was to be a part of every human, which is the manifestation of God himself. Vayu's third wish was to name the lingam as Karpoora Linga, which represents Lord Shiva and Vayu. Lord Shiva, known for his benevolence, immediately granted Vayu his all three wishes.
There are several other legends connected to the glory of the temple. Once Goddess Parvati was cursed by Lord Shiva to shed her heavenly body and take the human form and live in the Earth. Upon this curse, she was completely taken aback. She wanted to gain back her heavenly abode. She then meditated severely in this sacred place "Kalahasti" and got her curse removed. Lord Shiva was extremely pleased with her deep devotion had recreated her body, which was more than a hundred times better than her previous heavenly body. He also initiated various mantras like Panchakshari. Upon gaining her boon, Goddess Parvati was hence called as "Shiva-Gnanam", "Gnana Prasunamba" or "Gnana Prasunambika Devi", which means the repository of knowledge and wisdom.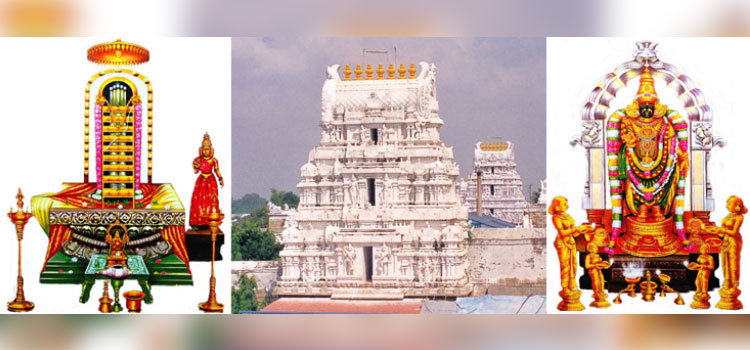 Another important part of history was that Ghanakala was heavily cursed to become a ghost. She then meditated for 15 years in the sacred spot of Sri Kalahasti. She was continuously chanting the Bhairava Mantra, upon which Lord Shiva restored her original form. Not only for Ghanakala, but other people like Mayura, Chandra, and Devendra also attained salvation from their curses after taking bath in the river Swarnamukhi and praying at Sri Kalahasti. Markandeya, a hardcore devotee of Lord Shiva was also enormously blessed with pristine youth and life.
Legendary stories also refer Sri Kalahasti temple as a part of Kailasam. Once there was a feud between Vayu and Adisesha on the account of superiority. Adishesha then encircled the Kailasam. Vayu created twister to remove this encircle. Consequently, Because of the twister, the kailasam was shattered into eight different parts and fell into 8 different places which are Trincomalee, Sri Kalahasti, Thiruchiramalai, Thiruenkoimalai, Rajathagiri, Neerthagiri, Ratnagiri, and Suwethagiri Thirupangeeli.
Significance of Sri Kalahasti Temple
Sri Kalahasti Temple belongs to the ancient Pallava period. This temple is highly significant, as people would resort to this temple to get their remedies for their malefic planetary position. This is considered as one of the prime shrines of Lord Shiva in the earth and believed to be blessed with benevolence. Lord Shiva is highly magnificent that he washes off the sins of his devotees, who worship this shrine with enormous faith.
Architecture of Sri Kalahasti Temple
Sri Kalahasti is an excellent example of south Indian architecture. This is built by Pallava Kings. The other Pallava architecture is Mahabalipuram near Chennai. This temple has intricate carving and excellent architecture. The white stone Shiva Lingam of this temple resembles the shape of an elephant's trunk. The temple tanks Chandra Pushkarani and Surya Pushkarani are said to have divine powers. The main Tower or Gopuram of the temple is about 120 feet high.
The temple complex has more than100 intricately carved pillars. Lord Ganesh's sanctum sanctorum is a 9 feet tall rock-cut shrine. Other deities of this shrine are Jnanaprasanammba, Kasi Viswanatha, Suryanarayan, Subramanya, Annapurna, and Sadyoganapathi.
Festivals Related to Sri Kalahasti Temple
This temple follows Saivite tradition. Maasi festival is celebrated with enormous importance. Maha Shivratri is one off the prime festivals. Vinayaka Chaturthi, Vijayadasami and Karthigai Deepam are celebrated with enormous significance in this temple. During the transit of planets like Jupiter, Saturn and Mars special prayers are performed.
How to reach Sri Kalahasti Temple
By Air: Nearest Airport: Tirupati – Tirupati Airport – Renigunta (26 Kms) Direct Flights to Tirupati
By Rail: Srikalahasthi Railway Station situated very near to the temple Direct Trains to Sri Kalahasti .
By Road: Srikalahasthi Bus Station, which is right in front of the temple
Srikalahasti Temple Pooja Timings and Cost
Temple Abhishekam – 6:00 AM, 7:00 AM, 10:00 AM and 5:00 PM, Monday to Sunday – INR 600.
Subhrata Seva – INR 50
Archana – INR 25
Gomatha Pooja – INR 50
Sahasranamarchana – INR 200
Trisathi Archana – INR 125
Rahu Ketu Pooja – 6:00 AM to 6:00 PM, Monday to Sunday – INR 500
Kaal Sarpa Nirvana Pooja – 6:00 AM to 6:00 PM, Monday to Sunday – INR 750
Aseervachana Rahu Ketu Kaal Sarpa Nirvana Pooja – 6:00 AM to 6:00 PM – INR 1500
Special Aseervachana Rahu Ketu Kaal Sarpa Nirvana Pooja – 6:00 AM to 6:00 PM – INR 2500