Ratha Saptami – Honoring the Sun God
Ratha Saptami is a famous festival that is observed on the 'Saptami' (7th day) during the bright fortnight of the Moon (Shukla Paksha) of the month of 'Magha' in the Hindu calendar. In the Gregorian calendar, it falls between the months of mid-January to February. The festival is devoted to Surya or the Sun God and is also called 'Surya Jayanti,' 'Magh Jayanti' or 'Magha Saptami.' Lord Surya was an avatar of Lord Vishnu and the day celebrates his birth anniversary- the day when the Sun enlightened the whole world.
The word 'ratha' means 'chariot' and the Sun is usually depicted as sitting on a golden chariot driven by seven white horses. There are special events arranged in the temples which have the Sun as the primary deity. The Tirumala Tirupati Balaji Temple conducts special pujas for the occasion. Ratha Saptami has special significance in states like Maharashtra, Tamil Nadu, Karnataka, and Andhra Pradesh.
How Ratha Saptami Rituals Are Observed
Devotees get up before sunrise and have a bath. The Ratha Saptami Snan has to be performed at the time of sunrise. Taking a bath during this time is believed to free a person from all diseases and bestow good health. Hence, Ratha Saptami is also called 'Arogya Saptami.' In Tamil Nadu, devotees use Erukku (Giant Milkweed) leaves while taking the holy bath.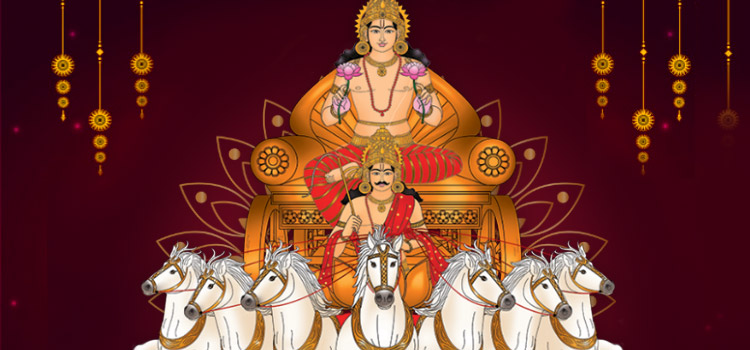 Once the bath is over, devotees offer 'Arghyadan' to the Sun God at sunrise. This is done by offering water slowly from a small Kalash or pot in Namaskar Mudra to the sun god. Devotees stand facing the Sun during this ritual. Many people perform this ritual 12 times, chanting twelve different names of Surya (Sun God), each time. After this, a ghee lamp is lit, and the Sun god is worshipped with red flowers, camphor, and incense. Those who observe these rituals will be blessed with good health, longevity, and success. Women create colorful and lovely rangolis displaying the image of Lord Surya on his chariot in front of their houses. Milk is poured into mud vessels, kept in the courtyard, and boiled facing the sun. The boiled milk is used to make sweet rice or 'Paramannam' Bhog which is offered to the Sun God.
Ratha Saptami Mantra Chanting
As per scriptures, chanting 'Gayatri Mantra' and reciting 'Surya Sahasranaam,' 'Adityahridayam' or 'Suryashtakam' on this day is considered very auspicious. The day is believed to confer the same benefits as observing noble and charitable acts during a solar eclipse. Those who worship the Sun God on this day, it is said, will get absolution for all their sins, even those committed during previous births.
Ratha Saptami also signifies the movement of Sun God in his chariot towards the northern hemisphere. Thus, it heralds the advent of summer and the onset of the harvesting season. For Indian farmers, it marks the beginning of the New Year.