What is Anant Chaturdashi?
Lord Ganesha is an important God in the Hindu Pantheon. His significance has been enumerated across various texts and he is the prime deity to be worshipped before starting anything new. Ganesha Chaturthi is celebrated to commemorate the birth of Lord Ganesha. Anant Chaturdashi is the part of this ten-day celebration and is celebrated on the last day. This is an important festival for both Hindus and Jains.
The significance of Anant Chaturdashi:
People worship Lord Vishnu as Lord Anant on Anant Chaturdashi. In Sanskrit, Anant means happiness, and Chaturdashi means happiness. Thus, Anant Chaturdashi is observed on the 14th day of Shukla Paksha of the Bhadrapada month. As Lord Vishnu is revered as the uncle of Lord Ganesha, in many places, the connection between them has been elucidated. Pandavas also got back their lost kingdom, which they lost to their cousins, the Kauravas. After praying to Lord Vishnu, they got back their lost pride, wealth and happiness.
The Mythology behind Anant Chaturdashi:
Once, a young girl of fourteen ran away due to the ill-treatment by her father and stepmother. She got married to a young man, "Koundinya". She met a group of people, who were doing penance in the forest. She also did meditation and got wealth and happiness. She was also enormously blessed by Lord Vishnu, and he appeared before her.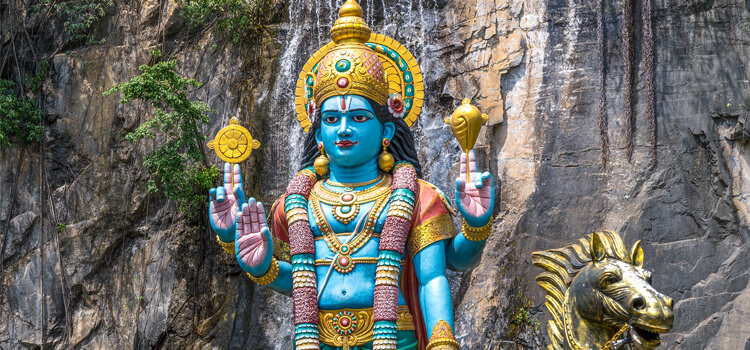 One day, Koundinya saw the sacred thread of vow (?) on her hand and got angry. He removed the thread with great force which made them poor again. Koundinya wanted to gain back all his wealth and he started meditating, but he was not pious. He was unable to fulfill the vows of the sacred pact. Frustrated, he tried to commit suicide. He was saved by Lord Vishnu and He helped them to become rich and successful. Since Lord Vishnu bestowed enormous wealth on the day of Anant Chaturdashi, this day has gained enormous significance.
Rituals of Anant Chaturdashi:
Lord Ganesha is beautifully decorated, and large statues of Lord Ganesha are brought in a procession and immersed in water bodies. It is celebrated as a community, where people dance, sing and enjoy together. Many women fast on all these fourteen days and pray for their wishes to be fulfilled. They refrain from eating non-vegetarian food and also curb salt intake. Temples will have special pooja and rituals for the entire fourteen days, and people would gather in large numbers in the temple. Lord Vishnu is also worshipped during this day and ladies pray for a good marital life. It is believed that these days are highly powerful.
Benefits of celebrating Anant Chaturdashi
Anant Chaturdashi brings brotherhood and enhances happiness. Lord Vishnu confers positivity and wealth for all the devotees. People worship him to regain lost wealth. They tie the sacred thread in their hands and believe that it would become their amulet and protect them.