What is Chaitra Navratri Pooja?
Navaratri is a festival which is celebrated with pomp and glory in India. The word Nava means Nine, and Ratri means Night, which literally means 'nine-nights' and is celebrated with great zeal and enthusiasm by Hindus. Vasanta Navaratri, also known as Chaitra Navaratri, which falls in the month of March-April. Navaratri comes four times in a year. They are Sharada Navaratri, Vasanta Navratri, Magha Navratri, and Ashada Navratri. There is one more special Navrathri called Gupta Navaratri, which is only celebrated by highly religious people.
The Significance of Chaitra Navaratri Pooja
There are several instances in history, where Lord Shiva is worshipped by Lord Rama. In the Ramayana, Lord Rama and his brother Lakshmana prayed for nine consecutive days and executed a special pooja on the last day to seek the blessings of Goddess Shakti. The blessings helped them to release Mother Sita from Ravana's captivity. It also marks the arrival of the spring season, which is much awaited by the people, and people make special prayers to have a good yield of crops. Another legend says that once there was a prince named Sudarshan who prayed to Goddess Shakti and emerged victoriously. To thank the goddess, the Prince performed a special ritual, and later this day is celebrated as Chaitra Navaratri, which marks the victory of good versus evil.
The Mythology behind Chaitra Navaratri Pooja
Chaitra Navaratri falls on the first day of the Luni-Solar calendar of the Hindus occurring during March-April. Chaitra Navaratri has more significance since it also concludes on Ram Navami. During Chaitra Navaratri, the nine incarnations of Goddess Shakthi known as Durga, Bhadrakali, Jagadamba, Annapurna, Sarvamangala, Bhairavi, Chandika, Lalita, Bhavani, and Mookambika are worshipped. Goddess Shakthi is energy in all her amorphous forms, which protects humans and manifests virtue.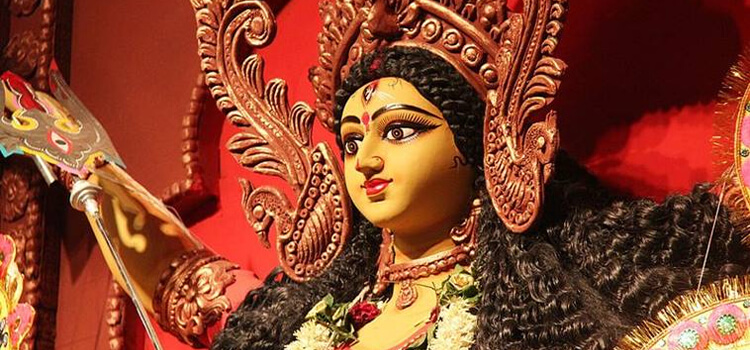 Rituals of Chaitra Navaratri Pooja
Pictures or idols of Goddess Durga are well decorated with flowers and ornaments. Special fruits and sweets are submitted as an offering. Various seeds and lentils are sowed in a small earthen pot and made to grow, marking fertility and prosperity. The sacred thread is tied on the hand depicting the pact with God to stay humble and pious. The entire nine days are celebrated along with the community to enhance friendship and brotherhood. This festival is especially celebrated by womenfolk who distribute gifts and sweets to the public.
People flock to temples to praise the Goddess, who descended from heaven to help humans when they are in trouble. Many times, several incarnations of the Lord have come to earth and saved humans.
Benefits of celebrating Chaitra Navaratri Pooja
The pooja brings blessings of wealth and prosperity, and success in life.
One is freed of the sins committed during previous births or in the present life.
This pooja also helps protect one from evil spirits and removes obstacles. It enhances self-confidence and brings relief from diseases. It fulfill devotees' wishes.