Hanuman Jayanthi celebrates the birthday of Lord Hanuman who was very dear to Lord Rama. It falls in the Hindu month of Chaitra (March) and this year (2019), it is on Saturday, April 19. But the festival is celebrated on different days in various parts of India. Lord Hanuman was born on a mountain called Anjaneri. His mother was Anjana, an apsara, or celestial dancer, who was cursed to be born on earth. The curse was lifted when she gave birth to her son. According to the Ramayana, his father was Kesari, the son of Brihaspati. Anjana had to pray to Lord Shiva for 12 years to have a child. Her devotion pleased the god and he gave her the son she wanted.
Hanuman was a great devotee of Rama and it was with his help that Rama was able to get his wife Sita, back from the clutches of the Lankan king, Ravana. He is seen as a symbol of devotion, valour and strength. In the Ramayana, we read about his heroic exploits. He uprooted an entire mountain which had medicinal herbs like Sanjeevani in order to rescue Rama's brother, Lakshmana, who had been mortally wounded in battle. Those who fear evil spirits and unknown enemies read the Hanuman Chalisa for mental strength and peace of mind.
Observing Hanuman Jayanthi
Devotees bathe early in the morning and visit Hanuman temples on this day. Rituals include fasting, special religious discourses, reading Hanuman Chalisa, etc. Some simple food like peppercorn crackers may be distributed. The idol is bathed and decorated by the priest who also offers special prayers. Then, vermilion and oil are smeared all over the body. Devotees apply vermilion to the forehead of the Hanuman idol in the temple, and when the puja is over, people apply the vermilion to their own foreheads to commemorate the way Hanuman smeared paste on his body so that Rama would enjoy long life. The story goes that he did this after Sita told him that she smeared vermilion on her forehead for the same purpose.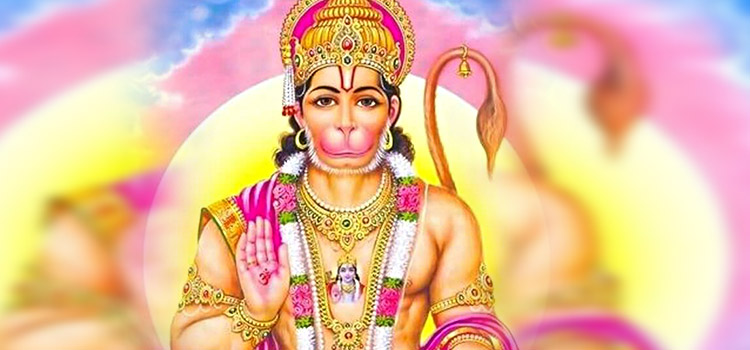 Flowers like hibiscus, datura and jasmine are dear to him. The Prasad includes sweets like laddoos, flowers, sacred ash and holy water. The idols of Hanuman are reddish orange in color because he was from the Vanara (monkey) community. So devotees often offer bananas to the deity. If there are monkeys in the vicinity they are also given bananas. Offering Vadamalas (garlands of savory dumplings) is best for wish fulfillment and mitigating the malefic effects of Rahu. It is a custom to read Hindu epics like the Ramayana or the Mahabharata and some devotees dress up like the monkey god himself and dance on the streets. Hanuman is also called Anjaneya after his mother anjana, and he is worshipped by Sikhs, Jains and Buddhists too. His other names are Rudra, Bajrangbali, Sankat Mochan and Maruti.
Benefits of Hanuman Jayanthi– Become Invincible in Adversity
Hanuman is the favorite deity of wrestlers and bodybuilders. Brahmacharis (sworn bachelors) too revere him. According to some legends, he is the 11th Rudra avatar of Lord Shiva. The day is especially significant to people in whose natal charts, Sani (Saturn) plays a major influence.
The ancients used to say that if anyone wanted Lord Rama to end all their sorrows, Hanuman alone could help them to reach him. Hanuman has the power to remove all your problems and restore happiness in your life. This can be achieved by reciting the Hanuman Chalisa regularly. Offering betel leaf garlands to Hanuman can improve troubled relationships and bring prosperity. This year, the Hanuman Jayanthi is even more special as it falls during a very rare and auspicious period – the Sun and Moon join Saturn in Sagittarius which is the 9th house of fortune. It creates a beneficial yoga called Parivartana yoga which can bring you sudden windfalls and profits. Writing the mantra 'Sree Rama Jayam' on Hanuman Jayanthi can shower on you untold blessings. All kinds of negative energies can be banished by worshipping Hanuman on this day as he has magical powers to counter them. Praying to Lord Hanuman on his special day can give you the strength to withstand all the adversities that life can throw at you and overcome your worst foes.
This Hanuman Jayanthi, make sure that you receive the powers and blessings of Lord Hanuman by participating in the various rituals and ceremonies that AstroVed will be performing on this sacred occasion. It will transform your life in ways that you never dreamed of!