What is Parad Shivalinga?
'Parad' is derived from 'Para,' which means 'Mercury'. Parad is the purest as well as the most refined element. So a Shivalinga made of Parad is highly revered.
Mercury, even in its most solid form, remains liquid. Hence, it is purified and solidified using several processes when making the Lingam. This kind of Shivalinga is also called Rasamani (another name for Mercury) Shivalinga.
The Legend behind Parad Shivalinga
Once, the world was overwhelmed by the tyranny of demons. At this time, Brahma and Vishnu sought the help of Shiva, who was in deep meditation. Normally, even the gods feared to disturb Shiva when he was meditating. But they had no choice, as the situation was very dire.
His meditation disturbed, Shiva opened his eyes. He was angry and manifested his fierce form, Bhairava.
Brahma and Vishnu tried to calm him by worshipping him with a Shivalinga made of mercury, as it had calming properties. Shiva was pleased and became calm.
This story explains the origin of the Parad Shivalinga and its significance.
Worshipping a Parad Shivlinga, therefore, creates peace and calmness in our mind and soul. It can also eliminate negative energies.
Benefits of Parad Shivalinga
The Hindu Scriptures claim that worshipping the Parad Shivalinga brings many benefits. The Parad Shivalinga can bestow good fortune, good health, and spiritual progress. Even the act of looking at it is considered sacred.
It can fill one with power, positivity, and strength and remove all your mental, emotional, and physical sufferings.
It brings blessings equivalent to worshipping 108 types of Shivalinga.
It can bestow a good social position, name, and fame.
Having a Parad Shivalinga at home helps you to lead an authentic life.
Shivalinga represents the union of Shiva and Parvati, so it can bestow happiness by resolving conflicts in love life and married life.
If you have this Shivalinga at home, it is like having Vishnu and Lakshmi at home, as Vishnu is the biggest devotee of Shiva.
The Parad Shivalinga helps erase sins incurred by killing cows, committing Brahmahatya 1000 times, etc.
Supposedly, worshipping Parad Shivalinga can remove the sins of the greatest sinners.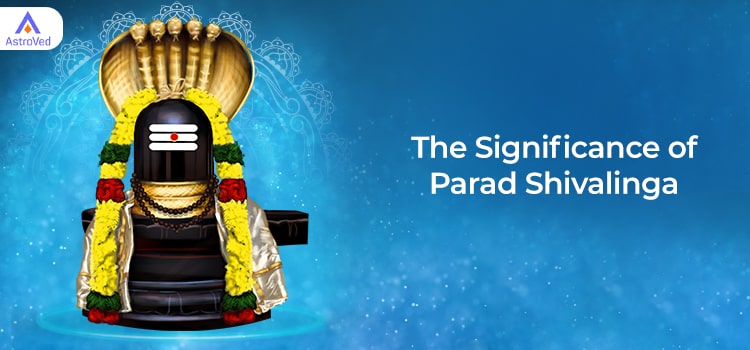 Astrological Significance of Parad Shivalinga
Parad Shivlinga can eliminate difficult Doshas like Vaastu Dosha, Kalsarpa Dosha, Mangalik Dosha, etc.
It protects one from illness and accidents.
The Brahma Purana says that it can bestow all worldly pleasures and Moksha.
How to Worship Parad Shivalinga?
There is no need to consecrate the Parad Shivalinga. In other words, performing Pranaprathistha is not required. A simple prayer will do.
After bringing the Parad Shivalinga home, do Pooja and chant Mantras regularly
Pooja Procedure
Keep all the Pooja items ready. The list of Pooja Samagri is given below:
∙ Shivling
Sandalwood Paste
∙ Flower petals
∙ Incense sticks
∙ Ghee lamp
∙ Fruit offerings
∙ A small pot of water
Clean the Pooja area. Then spread a clean white cloth and keep the Parad Shivalinga on the cloth.
Light a ghee lamp and worship Ganesha to remove obstacles during the Pooja.
Offer flowers to the Shivalinga.
Apply some chandan/sandalwood paste to the Shivalinga.
Light incense sticks and offer the smoke to the Shivalinga.
Offer a small pot of water to the Shivalinga to symbolize purification.
Chant Shiva Mantras, like 'Om Namah Shivaya' or 'Om Trayambakam Yajamahe'.
Offer fruits to denote abundance and prosperity.
Complete the Pooja by bowing before the Shivalinga and expressing your gratitude.
Do this Shivalinga Pooja daily the same way. Do not miss Mondays, especially.
Doing Parad Shivalinga Pooja on Mahashivaratri is one of the holiest acts.
Some Tips on Placing Parad Shivalinga
Place the Shivalinga at home to attract peace and happiness in the family.
Place the Parad Shivalinga in your office or workspace for financial abundance.
Keep the Shivalinga in the bedroom if you wish to improve your marital relationship.
Bringing the Parad Shivalinga home on a Monday is very auspicious. It is very beneficial if you do it on Mahashivaratri day.