What is Vaikasi Visakam:
Vaikasi Visakam is celebrated as the birthday of Lord Muruga according to the Tamil calendar. It is celebrated in the month of Vaikasi, corresponds to the date between May and June according to the Gregorian calendar. On Vaikasi Visakam, the Nakshatram Visakam coincides with the full moon or Pournami. Not only in India but across the globe 'Vaikasi Visakam" is highly celebrated with pomp and glory.
History of Vaikasi Visakam:
Lord Muruga is the second son of Lord Shiva, born out of his third eye in the form of fierce fire sparkles. As the intensity of the fire was unbearable even for the Gods, the sparks of the fire were dunked into the river to cool down. That mighty river is called "Saravana Poigai", which dispersed the spark into six different sparkles. Each spark then incarnated as a child, which was raised by the celestial maidens, known as "karthigai Pengal". Goddess Parvathy then unified all the children into one single male child, and thus Lord Muruga has twelve hands, six faces in him.
Lord Muruga is defined as a very beautiful, charming and divine personality, with high altitudes of knowledge and wisdom. "Skanda Purana", refers Lord Muruga to be highly intellectual, to even teach Lord Shiva, the meaning of "Pranava Mantra". He is enriched in valor that he also heads the army of Devas. Overall, he is a manifestation of charm, grace, power, devotion, and benevolence.
The significance of Vaikasi Visakam:
Six different faces of Lord Muruga denotes six different attributes.
First Face: Emits glorious rays of light to remove the darkness that encapsulates the world.
Second Face: Showers gracious blessings with benevolence upon his devotees.
Third Face: Maintains the tradition by watching the Brahmins and other priests, performing rituals and protecting Sanathana Dharma
Fourth Face: It is the mystical knowledge and wisdom which governs the world
Fifth Face: The amulet, which protects the people
Sixth Face: Shows love and kindness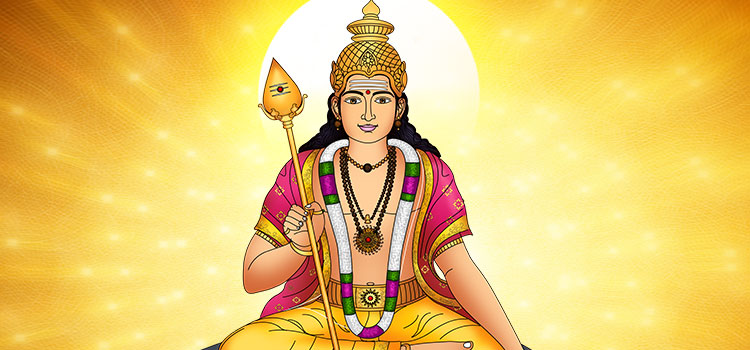 Lord Muruga was mainly incarnated to destroy the evil Asuras, Soorapadman, Singamuhan, and Tarakan. The Asuras through their hard penance gained enormous favors and boons to be invincible. Only a special power, which is born out of Lord Shiva only can destroy. Lord Muruga is the combined power of Lord Shiva and Goddess Parvathy, as he was born out of Lord Shiva's third eye and was again fused by the Goddess. Lord Muruga also receives a special weapon from his mother which was the mighty "Vel". It is an amulet which destroys the evil and protects people against any odds of life.
Rituals of Vaikasi Visakam:
On this day, temples conduct special pooja and rituals and offer "Prasadams" to their devotees. Among the Homas (a sacred ritual in which fire is invoked and meditated to appease the God) Kukuta Homa is performed by a group of scholars and priests. Devotees often carry milk pots known as "Pal Kudam" to perform Abhishekam to the deity. "Pal Abishegam", or divine bath with milk performed on the Lord's idol, is said to have positive powers. Devotees gather in the temples from early morning to witness special "Pooja" and participate in all special rituals. Many devotees would also walk a long distance from their home to the temple. Temple's chariot would make an enormous procession on the streets, along with the devotees.
At home, people would fast on that day by restraining spicy food and resorting only to milk and fruits. Special chanting of mantras and offering "Prasadams" are a part of the ritual.
Benefits of celebrating Vaikasi Visakam:
Lord Muruga showers his grace on all his devotees actively celebrating Vaikasi Visakam.
removes the problems and confusions in the family
ensures unity among the couple
As an amulet protects against malefic effects
Gives offspring for couples.
Restores happiness in lives, and ensures positivity