What is Aadi Krithigai:
Aadi Krithigai is a day auspicious for Lord Muruga, which is celebrated in the month of Aadi, corresponds to the date between June and July according to the Gregorian calendar. The star Krithigai is third among the 27 stars. This entire month is highly divine and connected to Goddess Parvathi. All Amman temples across South India will have festivals and celebrations. The Tamil month Aadi marks the Sun's downward movement towards South-East called Dakshinayana. This movement of the Sun indicates the start of the summer solstice. During the Tamil month Aadi, it is recommended to involve in spiritual activities. Lord Muruga holds a special position in Hindu Pantheon, as he is regarded as the god of intelligence, beauty, and valor. He heads the army of Devas. Not only in India but across the globe 'Aadi Krithigai" is highly celebrated.
History of Aadi Krithigai:
The word "Murugu" in Tamil defines beauty and so Lord Muruga is highly beautiful and charming. Worship of Lord Muruga dates back to Sangam era. He is revered as the Tamil God and has temples across the globe, and the festivals are celebrated with enormous pomp and glory. There is enormous literature which glorifies Lord Muruga, "Skanda Purana" is one among the notable literature which praises Lord Muruga, and signifies about his valor. According to this scripture, Lord Muruga was born from the third eye of Lord Shiva, as a spark of fire. As the heat was highly unbearable, the spark was immersed in the river. The sark then scattered into six different pieces, each incarnated as a child. Then, each child was cared for by celestial maidens. The sacred river is called "Saravana Poigai". All the sacred celestial women will also be worshipped and remembered with great significance on this day.
The significance of Aadi Krithigai:
Lord Muruga was originally six children, looked after by celestial maidens known as "Karthigai Pengal", later fused together as one child by his mother, Goddess Parvathi. Lord Muruga is said to have born with special mystical powers and denoted as a great warrior in the Legendary literature of Hinduism. He is also highly revered for his benevolence and splendid grace upon his devotees. The day of Krithigai, in the month of Aadi is highly powerful and special for Lord Muruga. It is on this day of "Aadi Krithigai", Lord Muruga slew the demon Surapadma. This day is regarded as the victory of good over evil.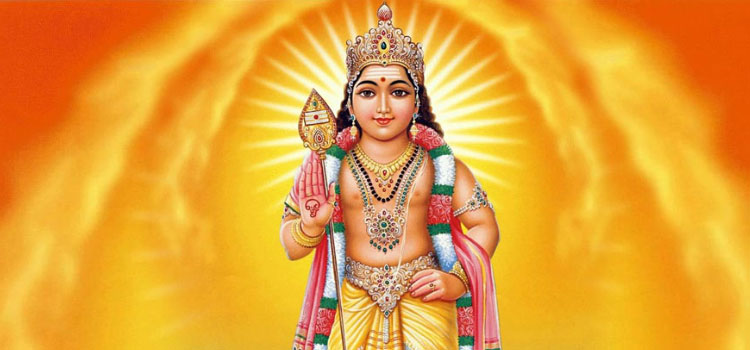 Rituals of Aadi Krithigai:
"Aru Padai Veedu", denoting six adobes of Lord Muruga, is situated in Tiruttani, Thiruchendur, Swamimalai, Palani, Pazhamudircholai, and Thirupparankundram in the state of TamilNadu, India. All the wealth like Wisdom, Power, Health, Victory, Relationship, and Prosperity will be blessed abundantly for his devotees, who worship him with piety and faith. This day is filled with special pooja," abishegam", or the divine bath for the Lord's idols.
A lot of the devotees carry "Kavadi", a decorated piece of wood, carried across the shoulders. The Kavadi will contain milk, rose water, flowers, fruits, feathers of Peacock. All his devotes would also pierce their body with "Vel", a mighty weapon given to Lord Muruga by Goddess Parvathi. Vel is a good amulet, which protects the devotes from various obstacles.
At home, many people observe fast and restrain from taking non-vegetarian and just take fruits and milk. Religious scriptures and special chantings are done to appease Lord Muruga. Mass feeding is known as "Anna Dhanam" is done by many devotees. A special feast is cooked and offered as prasadam to Lord. This entire day is filled with piety and worship.
Benefits of celebrating Aadi Krithigai:
Lord Muruga is not only known for his valor, but his kindness and generosity to help his devotees. There is a saying, where there is Vel, there is no obstacle. By worshipping him and celebrating Aadi Krithigai, he enriches the lives of his devotees.
Blessing of wisdom, power, health, victory, relationship, and prosperity
Reduce the malefic effects of the planet Mars
Destroy the negative elements in life
Remove obstacles and bestow with success in all the pursuits
Alleviate debts and diseases