General: September will be an average month for you. Do not take hasty decisions which will hamper your image. Discuss with your family members before taking a concrete decision. It is high time that you muster confidence. While dealing with society, it is highly important to be diplomatic. Meditation and Yoga will help you to gain composure. Relationships with your kith and kin will be cordial. Your hard work will gain a positive reputation. You will see a period of enhanced confidence and growth in all your spheres. You can save a lot this month, but expenditures are also indicated. Your health will remain excellent this month. Sagittarians check out what Sagittarius Monthly Horoscope has for you this month.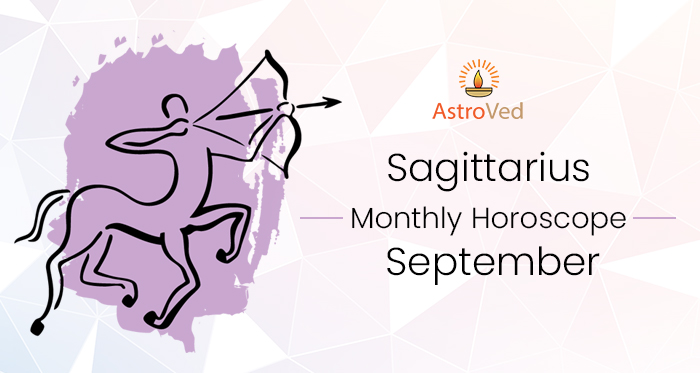 Love Relationship: This is going to be a month of harmony in your love life. You will receive both respect and love from your partner. You are positive and energetic this whole month. There will be newer responsibilities  this month. New proposals with your desired partner would be fruitful.
Divine Technique for Marital Harmony: Mars Pooja
Finance: Financial instability is indicated  this month. You will repay all your debts positively which can give significant relief and confidence. You will start investing money in savings. You should give priority to domestic requirements to ensure smooth domestic life.
Divine Technique to Improve Financial Status: Saturn Pooja
Career: Career upliftment will yield high relief this month. It is important to plan your actions and execute them properly. Deadlines are to be met with appropriate care. Execution of  thoughts should be highly meticulous to yield good results. You will also be supportive of your colleagues to complete their tasks.
Divine Technique for Career Progress: Sun Pooja
Business: New business ideas and projects are highly favorable. Employing freelancers will yield favorable results. Marketing and strategic planning are highly important this month to see  growth in your business sector. Your business acumen and execution of  tasks will bring  positive results.
Professionals: September is a good month to get growth and desired results. You will take the necessary decisions during this month.  You will receive good support from your superiors. Your work will be appreciated. Promotions and pay hike are also indicated.
Health: Your health is very positive this month, and even the minor ailments will be cured. Optimism and happiness is the key to this month. Meditation and yoga will prove highly beneficial.
Divine Technique for Healthy Living: Lord Vaidhyanatha Pooja
Student: Students should complete all the pending tasks. Their merit will be appreciated and they will gain positive reputation in their institutions. Parents will be very proud of their children and the students will receive good support from their teachers. Overall it is a positive period.
Divine Technique to Perform Well in Academics: Goddess Saraswati Pooja
Auspicious dates: 1,3,4,5,8,9,10,11,13,14,16,17,19,20,21,27,30.
Inauspicious dates: 2,6,7,12,15,18,22,23,24,25,26,28,29.