General: This is a very positive period for you. High levels of satisfaction are indicated. Your enhanced positivity will earn you a good reputation.  Family needs should be given more priority to bring happiness in the family. Domestic life will be very positive and peaceful. Pilgrimage and spiritual journeys will enhance your happiness. Celebration and festivity in your family will make you happy. Many positive and favorable incidents will happen in your family. Personnel and work-related travel overseas are also indicated. You might repay a great part of your debts. You will get a chance to purchase a property. Health will be better during this period.Check out what AstroVed's Pisces Monthly Horoscope has for you this month.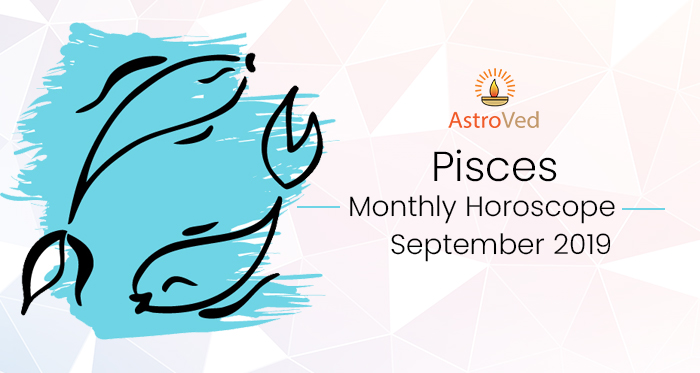 Love Relationship: Your love relationships will be very smooth. Many people will find new love, and people with a partner will have a positive relationship.  Conjugal life will be very progressive, and you will enjoy positivity and confidence. Domestic needs should be prioritized. It is a progressive time to find a life partner for marriage.
Divine Technique for Marital Harmony: Moon Pooja
Finance: Finance will show progress during this month. It is time to be highly positive. Issues of debts will be sorted out indisputably. Financial support or loans from the bank will enhance the financial situation.
Divine Technique to Improve Financial Status: Mars Pooja
Career: September month proves good for career growth. Try to grab sudden assignments which come to you. Work stress is likely to exist, and through your hard work, you gain better results. Increments and recognition are indicated, as your work will be very satisfactory.
Divine Technique for Career Progress: Jupiter Pooja
Business: Business will show slow progress in this month. New assignments from your clients are also indicated. It is essential to follow first in first out method which will be highly beneficial. Your partner will also do well on the business front, which enhances your confidence.
Professionals: Professionals will enjoy a positive period this month. Your actions will give you high levels of satisfaction. You will get a good reputation among your peers and promotion is also indicated. Increments for your work are also indicated this month. You will be appreciated for your work and your colleagues will try to copy your working style.
Health: Health in this month will be very normal. Follow the diet and avoid junk food for better results. Pilgrimages trips are indicated, which will enhance your emotional strength. Try to avoid foods with heavy spices and oil to enjoy good health.
Divine Technique for Healthy Living: Lord Vaidhyanatha Pooja
Students: This is a period of growth and positivity in your education. All your plans will materialize and require a lot of efforts from you. You can witness  growth in your studies. Teachers will able to guide and help you properly. Your reputation and importance grow among your peers. You will enjoy the limelight. You will also be the class leader during this month.
Divine Technique to Perform Well in Academics: Goddess Saraswati Pooja 
Auspicious dates: 1,5,8,9,10,11,13,14,16,17,19,20,21,24,25,26,27,30.
Inauspicious dates: 2,3,4,6,7,12,15,18,22,23,28,29.