What is Karthigai Deepam?
Karthigai Deepam is celebrated during the Full Moon evening in the Tamil month of Karthigai (mid-Nov to mid-Dec). On this day the Moon is in the star Krittika or Kirthigai. It is a very popular festival in South India.
How is Karthigai Deepam celebrated?
The ancient festival of Deepam is celebrated to honor Lord Shiva and his son, Muruga. Lighting of lamps is the main ritual of this festival. The act has a spiritual significance. The lamp's wick represents our ego, the oil, our innate nature that influences the ego and the flame, the spiritual wisdom that inflames the ego by burning out our innate nature signifying the triumph of good over evil. Lamps are lit in houses for prosperity and auspiciousness as well as banishing negativity and evil.
Legends behind Karthigai Deepam
There are several legends surrounding Karthigai Deepam. According to the scriptures, Lord Brahma and Vishnu were having an argument about who was more important among the two. On seeing this, lord shiva decided to teach them a lesson and also prove his supremacy above everyone else. He turned into an infinite fire and asked them to find its top and bottom. Brahma became a swan and flew to the top, and Vishnu became a boar and dived to the bottom. But both of them failed in their efforts. Thus they understood the supremacy of Lord Shiva above all.
Another story goes that Lord Shiva appeared as a massive fire hill called Arunachala. To commemorate this mythological event, a holy fire is lit in a huge lamp, every year, on Karthigai Deepam. Yet another legend claims that, on Karthigai Deepam, Lord Muruga who was born as six flames from the third eye of Lord Shiva and nurtured by the Karthigai Pengal (six maidens) as six beautiful babies, was given the form of a boy with six faces (Arumughan/Shanmugha) by Goddess Parvati who unified the six flames.
The festival also celebrates Goddess Parvati's killing of the demon, Mahishasura.
How to celebrate Karthigai Deepam at home?
On the morning of Karthigai Deepam, people clean their houses and draw beautiful rangolis on the doorstep. Clay lamps are lit all around the house special delicacies are offered to the Lord. Devotees wear new clothes, visit family and friends and burst crackers. Deepam is often regarded as an extension of Diwali in South India.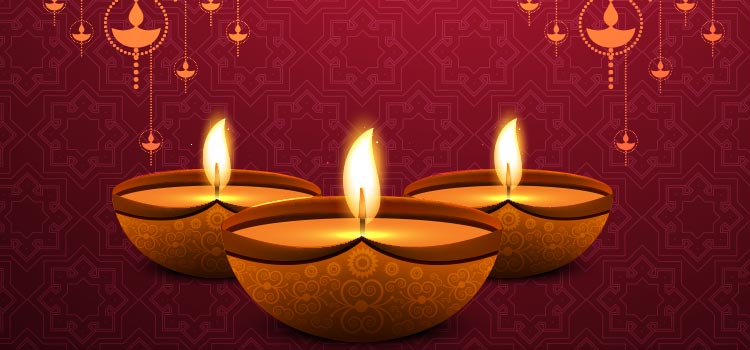 On this auspicious day, a huge lamp is lit in a massive earthen lamp on the holy hill of Thiruvannamalai, Tamil Nadu. It is followed by a ten-day grand celebration to honor Lord Shiva, who took the form of an infinite fire. By worshipping him on this day, devotees hope to destroy ego, pride, greed, and delusion which prevent them from communion with the divine.
Benefits of Karthigai Deepam
People worship Lord Shiva and Muruga on Karthigai Deepam. This bestows many benefits like:
Removal of negativities
Auspiciousness and prosperity
Wish-fulfillment
Inner peace
Removal of pride