Characteristics and Features
The Nakshatra is ruled by Mercury and the chief deity is Indra. It means "chief" or senior most star and symbolizes the oldest or most powerful or most praiseworthy. An earring or circular talisman represents it and the animal symbol is the male deer or hare. Jyeshta confers mental brilliance, analytical ability and creative genius.
Men Born Under Jyeshta Nakshatra
Appearance and Temperament
He is attractive with a robust physique. He may have defective teeth. Either they may protrude or there may be a gap between them. If not these, the color may be different. He is a clean and sober person but quite incapable of facing even small problems. He is poor at keeping secrets, even if they are his own. If he tries to hide things from others, he may find himself disturbed and unable to sleep.
He is quick-tempered and stubborn. This temperament might cause many problems which prevent him from progressing in life. He is not likely to accept other people's advice. He may make impulsive decisions for the sake of principles without looking at the situation in its entirety. This may land him in trouble. He has to curb his anger as it may cause him to alienate even people who helped him, by creating problems for them or not treating them well. Relations will not extend any help to him. On the outside, he seems to be very proud but those who get close to him will see a different person. He should avoid drugs and alcohol as he lacks self-control. If he gets addicted it may mar his personal and professional lives.
Education, Career and Income
He is likely to leave his home in his youth and settle down in a distant place. He will have to depend on his own efforts to survive. As he is a sincere worker, he will come up quickly in his profession. He won't stick to one job or profession for long. His life will become stable only after his 50th year. Before 50, he will face many trials and tribulations in life. The period – from the 18th year to his 26th – will be very difficult. Things will begin to change from the 27th year onwards though it will be slow going until he reaches 50.
Family and Relationships
No benefit may be expected from his mother and siblings, in fact they may behave like enemies. It is generally seen that his near and dear ones dislike him. One reason is that he likes to maintain a separate identity and existence. His spouse will dominate and strongly oppose his addiction to intoxicants, if any. Married life will be good but his wife may have occasional health problems. There could be a separation on account of some unavoidable circumstances too. This may greatly affect the mind of the native.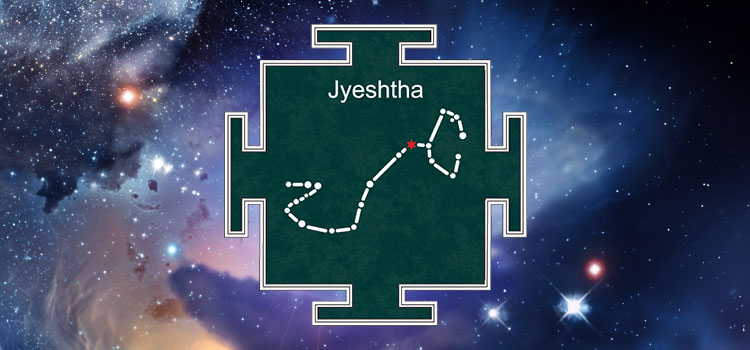 Health
Fevers, dysentery, cough and cold, asthma and stomach problems are likely. He may have minor health problems frequently. Severe pain in the arms and shoulders is possible.
Women Born Under Jyeshta Nakshatra
Appearance and Temperament
She will have a well-proportioned body and long arms. She will be tall, have a broad face and short, curly hair. She is a passionate and emotional person who feels deep love and intense jealousy. She is intelligent and perceptive. She will make a good organizer.
Education, Work and Income
She is very likely to be a sportswoman. Education will be medium. She usually prefers to be a homemaker and is happy to support her husband. So she is not likely to work outside the home.
Family and Relationships
Marital harmony may be lacking and she may lose her children. She may have to suffer harassment from her in-laws and they may make up some stories against her. She has to be wary of her neighbors and relatives as they may try to cause problems in her life. There will always be worries in her life. Since she is strict with her children during their childhood, they are likely to neglect her in her old age, in revenge.
Health
Her health will be average. Some females born in this Nakshatra might have uterine problems. She may also suffer from pain in the arms and shoulders.
Famous Jyeshta Nakshatra Personalities
Bob Dylan, Hermann Hesse, Al Pacino, Vincent van Gogh, Howard Hughes, Frank Sinatra, Walt Disney, Winston Churchill, Gianni Versace