This Saneeswaran temple lies on the way to Thiruvarur in a small town named Thirunaraiyur, about 9 km away from the main city of Kumbakonam.
Shiva as Ramanathaswamy, along with his consort, Goddess Parvati as Parvatavardhini, are the ruling deities here. Legend says that Rama, along with Hanuman and others, worshipped Ramanathaswamy while returning to Ayodhya. This temple, according to popular belief, yields benefits equivalent to worshipping Ramanatheeswarar at Rameswaram. As the presiding deity in both temples is Ramanatheeswarar himself, people believe that the divine power in both places is the same. This temple houses Shani with his consorts Manda Devi and Neela Devi and his sons Mandan and Kuligan. As Shani resides here with his family, he is called Mangala Saneeswaran.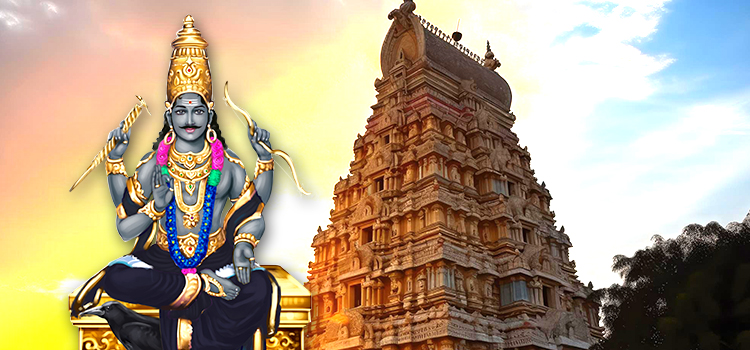 TEMPLE HISTORY:
Saturn's transit from Rohini to Krittika Nakshatra brings in a famine named Rohini Sagada Betham. According to the legend of this temple, Sri Rama's father Dasaratha, the benevolent king of the Ikshavaku dynasty, was once advised by his mentor Sage Vashista and other sages to stop the transit of Shani from Rohini to Krithiga, as it would bring famine to the country for the next twelve years.
King Dasaratha steered his chariot toward Rohini star with his weapons and tried to stop Shani, who had already started his transit. Several of Dasaratha's attempts failed. Finally, he requested Shani to stop the transit, as it would have malefic effects on the entire world. Impressed by the king's compassion towards his citizens, Shani Bhagavan agreed to stop his transit and requested the king to take a bath in the tank of Thirunaraiyur temple. As instructed by Shani, King Dasaratha took a holy bath in the tank and offered prayers. Pleased by his prayers, Shani granted boons that he would remove obstacles in marriage and childbirth and also assured that he would not create any problems during the Rohini transit.
Shani appeared before King Dasaratha and blessed the king with these boons. This saved the world from a difficult situation. King Dasaratha had sung slokas in praise of Shani Bhagavan. These slokas are very powerful in removing Shani doshas.
Sri Rama visited Rameswaram temple before the war, and after emerging victorious, he worshipped at the Thirunaraiyur temple, just as his father Dasaratha had done in the past. Rama dug a pond, which is called "Rama Theertham" after him. After taking a dip in the holy pond along with his consort Sita, brother Lakshmana, and Hanuman, he consecrated the Shivalinga and prayed to Parvati to remove the dosha caused by killing Ravana. Hanuman also worshipped here and consecrated a linga named Hanumanthalinga.
Temple Architecture:
This temple is one of the oldest shrines constructed in the Dravidian-style architecture. The presiding deity Ramanatheeswarar faces east, while Goddess Parvathavardhini faces south. As Shani is Mangala Shani here, many devotees pray to Shani for health and wealth. The rays of the Sun and Moon fall directly on the Shivalingam sometime in the month of April. This temple is a well-known Shani Dosha Pariharasthala. The two sons of Shani, Mandhi and Kuligan, also find their place in this temple. While Mandhi, if placed in an unfavourable position, gives bad effects and also slows down the good effects, Kuligan provides growth. Hence, one can start auspicious works during the Kuligaikala of the day. However, inauspicious activities are not to be undertaken during Kuligan.
There is a separate shrine for the Navagrahas. While the Sun is at the center along with his two consorts – Usha Devi and Prathyusha Devi, the other eight grahas are alone in their respective places around the Sun. This is a rarity. Devotees who cannot visit Rameswaram make their offerings to Ramanatheeswarar here. There are also shrines for deities like Gajalakshmi, Hanumantha Lingam, Annamalaiyar, Brahma, Durga Devi, Chandikeswarar, Medha Dhakshinamoorthy, Subramanya Swamy and his consorts Valli and Devasena. The temple tank is located inside the temple corridor, and the theertham is called Rama theertham. The Sthala Virutcham is Erukku (White Madar).
This temple is situated between the Thirunaraiyur Nambi temple or Kal Garudan temple and Sidhanathar temple. Other temples nearby are Nachiyar Kovil; Padikkasunathar Temple, Alagaputhur, Thirucherai Saranatha Perumal temple, Thirucherai Kadan Nivartheeswarar temple, Uppiliappan Temple, Thirunageswaram Rahu temple, Karukkakkum Nayagi Temple, Karuvalarcheri, and Prathyangara Devi Temple, Ayyavadi.
The temple complex has huge halls supported by pillars with intricate carvings, designs, and images. Thirunaraiyur Shanibhagavan is adorned with a blue vastram. In front of His shrine, we find a Kodi maram. Shani Bhagavan is seen blessing his devotees with Abaya Varatha hastham. A special Abishekam is conducted every day in this temple. After the Shani Peyarchi Pooja is performed, Thirukalyanam is conducted on the ensuing day. This is a special custom prevailing only in Thirunaraiyur temple.
The temple is open between 6 am and 12 noon and during the evenings between 4 pm and 8 pm.
The hydration ceremony, or Abisheka, is a powerful ritual performed here to remove all Saturn-realated doshas. By performing Abisheka, one can overcome obstacles faced due to Shani graha. Parihara pooja for Mandhi-related doshas is also performed in this temple to overcome the adverse results due to an unfavorably placed Mandhi in one's horoscope.
This Parihara Pooja bestows the worshipper with the benefits of good Yoga, removes obstacles related to marriage and childbirth, relieves impediments in the job, and promotes business growth. It also provides relief from court cases and legal battles and gives success in one's career and business while also bringing about overall prosperity in life.
Prominent Festivals:
Festivals celebrated in this temple are Diwali, Thai Poosam, Pongal, Karthigai Deepam, Navaratri, and Shivaratri. Most prominent among them is "Shani Peyarchi" – the Saturn transit.
Darshan Duration:
It takes about 15 to 20 mins during weekdays to have darshan and nearly 20 to 30 mins during weekends. The temple is usually crowded on Saturdays, Sanitrayodasi days, and during Karthika Masam.
How to reach the temple:
Thirunaraiyur Saneeswaran temple is well connected by road, rail, air etc.
By Air
The nearest airport is Tiruchirapalli, which is 136 km away.
By Train
Kumbakonam railway station is 59 km away. The nearest railway station is at Neyveli, which is 45 km away.
By Bus
Direct bus services are available from Kumbakonam, which is 55 km from the temple.