What is Radha Ashtami Pooja?
Goddess Radha is a friend, a great devotee of Lord Krishna. Radha Ashtami is the day of Goddess Radha's birth. Radha Ashtami is also called Radha Jayanti or Radhashtami. It falls on the Ashtami tithi of Shukla paksha in the month of Bhadrapada ( August – September). Madhyahna Kaal or noon time is the most auspicious time to celebrate Radha Ashtami. It is celebrated 15 days after Krishnashtami.
The Significance of Radha Ashtami Pooja:
Goddess Radha is believed to be the incarnation of Mahalakshmi. According to scriptures, it is written that during Krishnashtami, she wished to accompany Krishna, so she took birth on earth to make the people understand the true meaning of love and devotion.
Goddess Radha was the daughter of Vrishbhanu and Kirti. Goddess Radha was the daughter of King Vrishbhanu, who while bathing in the river, found her as a child lying inside a lotus flower.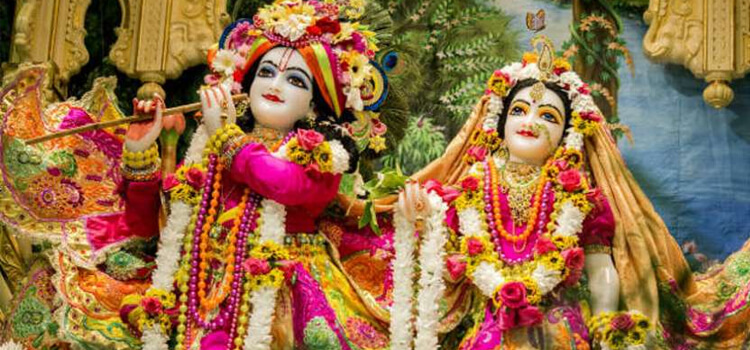 She is known for her great devotion for Lord Krishna. In fact, Radha and Krishna are often not spoken of as two separate people but one. Thus Radha Ashtami Pooja is celebrated to understand the devotion of Goddess Radha, and remind humans to display the same love and devotion.
The History behind Radha Ashtami Pooja:
Lord Krishna was the son of Queen Devaki and King Vasudeva and Kamsa was his uncle. Kamsa was a tyrant and always wanted to slay the young Krishna as it had been predicted that his nephew would kill him. So his father took him to Mathura where he was raised by Matha Yasodha and Nandagopar who belonged to the cowherd community. Little Krishna grew among the cowherds and he was adored by everyone. According to Skanda Purana, there were about 16,000 Gopis, of which 108 were the most prominent in Mathura. Out of the 108, 8 Gopis were very special and Radha was the most important of all. As Lord Krishna was growing up, his closest friend was Goddess Radha.
Rituals of Radha Ashtami Pooja
To celebrate Radha's true love, special 'Pooja' rituals are performed on this day. Women observe fast to seek blessings from Radha. The idols of Lord Krishna and Radha are decorated with fresh clothes and flowers. Panchamrit, a special mixture of curd, milk, honey, buttermilk, and holy Ganga water, would be poured on the idols. The entire day is spent seeking the blessings of Lord Krishna. A special meal is cooked and shared among the needy. People also visit the temple and offer prayers and poojas.
Benefits of celebrating Radha Ashtami Pooja
Goddess Radha had intense passion and love for Lord Krishna. Young girls offer special prayers to find a suitable husband, and married ladies pray for a prosperous married life. Worshipping Radha on this special day brings positivity in life.