In the Ramayana, Hanuman is also referred to as "Sundaran", which means "a beautiful person". Here, the term denotes not just his physical appearance but also his exemplary qualities and the modesty he exhibits in spite of being a great warrior with extraordinary skills. He is also praised in the Sundarakanda as the one who won over the five elements or "Panchaboothas". The Pudupakkam Veera Anjaneya Temple, located in Pudupakkam village near Chennai, is dedicated to Hanuman, the monkey god.
This place is close to SIPCOT, Siruseri. The temple is around 500 to 1000 years old and situated on a hill called "Gajagiri" on the Kelambakkam-Vandalur road. This hill has serene and peaceful surroundings and offers a magnificent view from its summit.
Devotees believe that Anjaneya goes on "Girivalam" around the hill on Full Moon days (Pournami).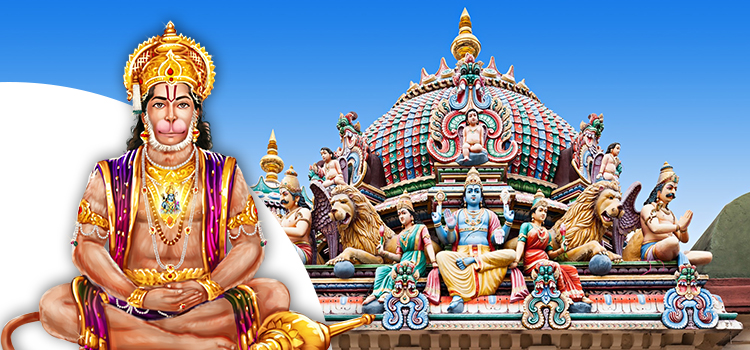 History of the temple:
Rama waged a war against the demon king Ravana, who had captured Devi Sita and imprisoned her in Lanka. During the war that was waged to rescue Sita Devi, Indrajit (Ravana's son), a master of mystic warfare, sent out a mighty weapon against Rama's soldiers. As soon as it struck Rama's army, Lakshmana and the monkey warriors fell unconscious. To revive them, the Amrita Sanjeevini herb from the Sanjeevi Hill was essential. Only Hanuman (son of Vayu) could accomplish the next-to-impossible task of getting the herb. Realizing this, Jambavan sent Anjaneya to bring the Sanjeevini herb. With the blessing of Rama, Anjaneya (Hanuman) went in search of the herb but was unable to identify the same. However, as the herb grew on Mount Sanjeevi, he lifted the entire Sanjeevi Hill on his shoulders and flew back to Lanka.
As Sandhyakala (time of sunset) approached while he was returning, Anjaneya alighted at a place to perform Sandhya Vandanam (the Nithya karma ritual) and thereafter flew back to Lanka carrying the Sanjeevani Hill. Thanks to him, the lives of Lakshmana and the monkey warriors could be saved.
At the behest of King Musukuntha, Vyasa Raya Theertha built a temple on the hill, where Hanuman had set his foot on the way to Lanka, and consecrated Hanuman's statue. Vyasa Raya has built temples for Hanuman in 108 places, and this temple has 108 steps, which is rare and notable. It is also said that Tirumangai Alwar built a temple for Anjaneya on this hill. Later, Sengalvaraya Maharaja and many other Pallava kings helped rebuild the temple.
Significance of the temple:
This temple has a beautiful six feet tall Anjaneya idol. This idol is of Saligrama stone. Idols of Goddess Sita and Lakshmana have also been consecrated near the idol of Rama. Hanuman is present near the feet of Rama.
Veera Anjaneya's right foot rests on the ground, and His left foot is raised in a "ready to fly" posture. With a Souganthika flower in his left hand and a bell tied on his tail which is raised above His head, he blesses all devotees with His hand held in "Abahaya Mudra". Anjaneya's head faces north towards Sanjeevi Hill while his body faces east. There is an annual tradition of carrying things from here to the Thiruvidanthai Perumal temple in a grand procession on festival days.
Around the sanctum sanctorum in the temple precincts, there are beautiful carvings of scenes from the Ramayana. Among them are images depicting the construction of the Sethu bridge, Anjaneya soaring high to catch the Sun mistaking it for a fruit, and Anjaneya occupying the entire body of Shiva.
This temple is also notable for being the 'parivetta' site of Thiruvidanthai Adivaraha Swamy or Nithya Kalyana Perumal (God of Eternal Marriage), hailed as one of the 108 Divya Desams. It is a special feature at this Veera Anjaneyar shrine to offer "theertham" to the devotees in a Valampuri Sanghu (conch). People believe that during every Full Moon night, Anjaneya worships this Gajagiri hill. It is hence believed that the prayers of devotees who come for Girivalam (circumambulation of the hill) will also be answered without exception.
According to popular belief, if you write Rama's name on a new brick on the New Moon day, and worship Anjaneya by placing it over your head, you will very soon attain the yoga of buying a new house. On Moola Nakshatra days, offering betel garlands and vada mala (garland made of vadais) to Anjaneya can remove obstacles in business and marriage.
In order to get employment and a higher position, one should worship Anjaneyar on Tuesday evenings by adorning Him with a garland made of betel leaves and also anointing the idol with butter. Hanuman Jayanti and Rama Navami are celebrated annually in this shrine. Pournami Girivalam is also conducted. Close to this temple, one can find the Thiru Amlashai Shiva Temple and Mambakkam Goddess Sametha Murukanatheeswarar Temple.
Benefits of worshipping Lord Hanuman:
Lord Hanuman is worshipped to get rid of mental issues like fear, depression, anxiety, etc. Devotees offer prayers at Pudhupakkam Anjaneyar temple to overcome their difficulties in life and extricate themselves from all hurdles experienced in pursuing their aspirations. Devotees also offer prayers here to get relief from chronic health problems, relief from evil spirits, overcome negative attitudes, and to gain confidence.
Festivals celebrated in Pudhupakkam Anjaneya temple:
Hanuman Jayanthi and Sree Rama Navami are celebrated in this temple.
Timings:
Morning: 6.00 am to 10.00 am; Evening: 5.00 pm to 8.00 pm
How to reach:
By Air: Chennai International Airport is the nearest to the temple at a distance of 35 kilometers.
By Rail: The nearest station is Vandalur, which is 22 kilometers from the temple.
By Road: The temple is located on the Tambaram – Kelambakkam road, 12 kilometers from Vandalur.