Dandakaranyam encompasses cities like Polur, Tiruvannamalai, Arani, Senchi, Tindivanam, and Villupuram. The centre of Dandakarunya is Parkavanam, the present-day Melmalayanur. "Malayan" was a great king in the lineage of the seven kings who ruled the upper hills of Parkavanam. The town of Malayan got its name "Malayanur" after the name of Malayan. Angala Parameswari temple is at Melmalaiyanur, 32 km from Gingee in Villupuram district.
Lord Shiva's consort Goddess Parvati, incarnated here in a hive, as Angala Parameswari. She holds a knife in one hand to destroy evil forces and Kumkum (the life giver) in the other. A snake's den has emerged on its own (Swayambu) outside the temple.
Besides this, is the "Utsava moorthi" (a replica of the main idol) of Angala Parameshwari Amman.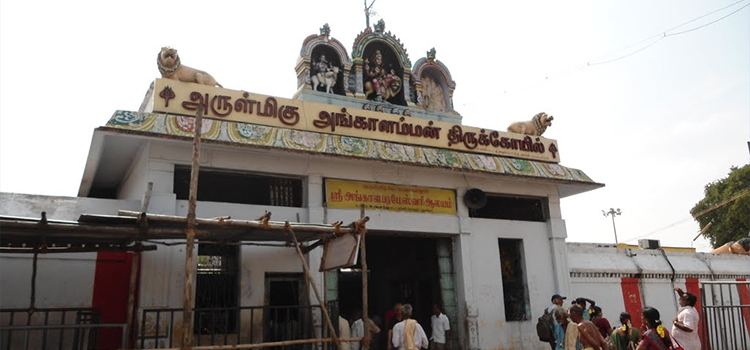 History of the Temple:
Before the Chatur yugas, both Lord Brahma and Lord Shiva used to have five heads. Lord Shiva's consort Parvati, once fell on the feet of Lord Brahma mistaking him for Lord Shiva. As Brahma mocked Parvati for this act, she asked Lord Shiva to sever one of his five heads. Lord Shiva did this and in turn, Brahma cursed Lord Shiva. The severed head clung onto Lord Shiva's hand. Lord Shiva then started to roam amid the graveyards and grew hungry and sleepless.
The severed head consumed all food placed in the skull carried by Shiva for Bhiksha (alms). This left Lord Shiva roaming around in hunger and a parched state. Meanwhile, Goddess Saraswati, angered by these happenings, cursed Parvati to become ugly.
Parvati sought Maha Vishnu for a remedy. Maha Vishnu asked her to assume a serpent's form and take a dip in the holy tank of Angala Parameswari temple. This cleansed her sins, and she regained her lost charm. Mahavishnu instructed Parvati to place three morsels of food in Shiva's "Bhiksha Patra". After Parvati offered two morsels, He directed her to throw the third morsel onto the ground. Enchanted by the smell and taste of the food lying on the ground, the severed head descended from Shiva's hand. Thus, Lord Shiva was free from the curse.
Goddess Parvati assumed the same terrifying look in Melmalaiyunur. She disappeared after promising her devotees to take care of their welfare. Pleased by the temple's power, she decided to bless devotees visiting this holy temple. She frees them from curses, evils of witchcraft, and other harm. The Goddess dispels destruction or misfortune that befalls devotees. There is also a myth and belief that Parvati resides here as a serpent.
There is yet another history for this temple. Lord Shiva wed Daksha's daughter Dakshayani. Daksha once visited Kailasa-Lord Shiva's abode. There Nandi, the chief attendant of Lord Shiva halted him. Infuriated by this, Daksha left the place and refused to invite Lord Shiva for a yaga conducted by him. Goddess Parvati (Dakshayani) decided to teach a lesson to her father. When she reached the Yagashala, Daksha taunted Shiva and insulted her. In turn, Parvati destroyed the Yaga. She then self-immolated herself by throwing herself into the fire lit for the Homa.
Lord Shiva flew out in rage when he found out about this tragic turn of events. An exasperated Lord Shiva staged the Tandava dance (Rudhratandavam) carrying Dakshayani's body. While doing so, Dakshayani's right hand fell at Dhandakarunyam (present Melmalaiyanoor location). A temple of Angalamman was then constructed there. The fishermen community (Sembadavas) continue conducting all the main rituals in this temple.
Architecture of the temple:
This temple is radiant with the divine presence of Goddess Parvati. She is the ultimate form of Goddess Anga. The northeastern part of Mellamalayanur has a very ancient tank named Agni Theertha. Gopala Vinayagar shrine is near the west gate of this temple. The temple layout has,
the shrine of Annapoorani to the south,
the shrine of Bhavadairayan to the north,
and the shrine of Periyar near the temple tank to the south.
Festivals of the temple:
Navrathri, Karthikai Deepam, and Thai Pongal are important festivals. Celebrations happen on Fridays and select days in the Tamil month of Masi. On Amavasai (New Moon) days, crowds throng the temple. People worship the ancient snake pit in the inner sanctum considering it as a Goddess. Villagers take Her in a procession on a new chariot during the annual festival. On full moon days, the temple is open right through day and night for devotees to offer worship. People from many villages visit the temple.
A ritual called "MayanakKollai" takes place in the months of February and March. This happens during the temple's annual festival. During this time, devotees carry grains to cook food and offer it to Angala Parameshwari. They worship her in the graveyard there. Many devotees enter a divine trance and travel alongside the procession.
Facilities provided:
A hair donation facility, with bathroom facilities, prevails at three locations. Purified drinking water facilities are available at several places. Such locations include the fronts of inner and outer Praharams, queue hall, and office. Marriages take place in temple halls. There is a library with a collection of spiritual books and journals. Adequate bathroom and toilet facilities exist in and around the temple. The temple serves food daily to about 300 people and to about 500 people on the new moon day.
Benefits of worshipping Angala Parameswari:
Women separated from their husbands or troubled by them visit the temple to be rid of their problems. People believe that visiting and worshipping Angala Parameshwari removes all impediments. To fulfil their vows, devotees anoint the Goddess with oil and don the idol with new Vastrams.
How to reach there:
By Air: Nearest airport is Chennai, Tamil Nadu State, about 129 Km from the temple.
By Train: Viluppuram (160 km from Chennai) and Polur Station (31 Km from Melmalaiyanur are close.
By Road: Bus from Viluppuram (60 Km from Melmalaiyanur) or from Gingee (40 km from Melmalaiyanur). Taxis and Cabs are also available for transit.