Pongal is the harvest festival that is celebrated in South India. It is called Mahar Shankranti in the North. This is a famous festival but the legends associated with this are not very famous. Are you eager to know? Read further!
Govardhan Parvat
The first day of the Pongal festival is called Bhogi Pongal, which has an association with Lord Indra (the King of the Devas) and Lord Krishna. In Brindavan, there existed a practice of conducting prayers to please Lord Indra, thanking him for the rains every year. Lord Indra took this pride to his head and became very arrogant. He considered himself to be the most powerful of all the beings. When the young Krishna came to know about this, he planned to teach him a lesson. He persuaded his dad, King Nanda and the people of Brindavan to worship Mount Govardhan instead of Lord Indra, as he felt that the mountain was the reason for the prosperity of the kingdom. This made Lord Indra furious and he sent the clouds to generate non-stop thunder, lightening, and heavy rains to flood the land. To tackle this, Lord Krishna lifted the Govardhan Parvat on his little finger give shelter to the cowherds and the cattle. It rained continuously for three days, and at last, Indra realized his mistake. He promised to stay humble to Lord Krishna and seeked his forgiveness. Since then, Bhogi is celebrated in honor of Indra.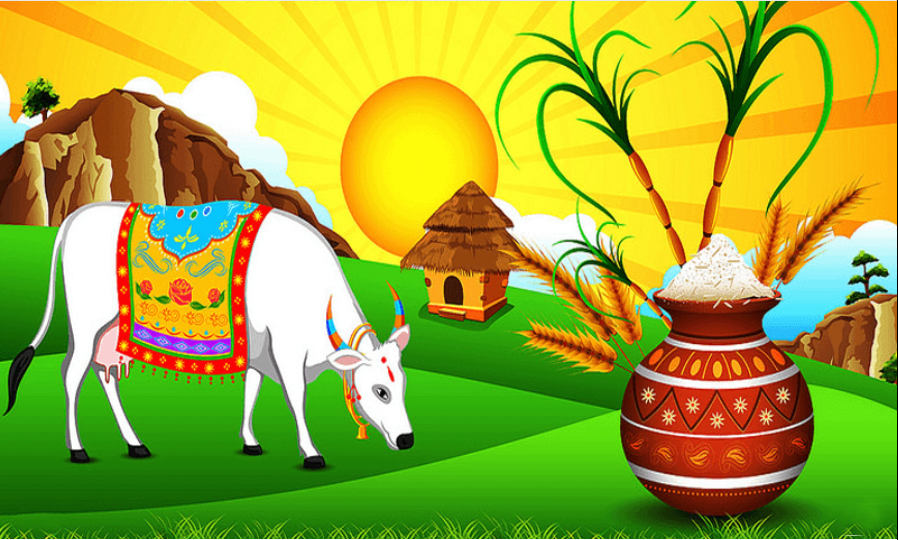 Lord Shiva
There is another legend associated with Pongal that relates to Lord Shiva. The third day of Pongal is Mattu Pongal which is associated with Lord Shiva and Nandi (Shiva's mount), the bull. According to mythology, Lord Shiva asked Nandi to go to Earth and deliver his message to the people, which is to ask them to have an oil massage and bathe daily and to eat food once a month. By mistake, Nandi asked them to have an oil massage and bathe once a month and to eat food every day. Upon knowing this, an enraged Shiva cursed Nandi saying that there would be lack of grains on the Earth. He banished the bull and asked him to live on earth forever and help people plough the fields. Thus, Mattu Pongal got its association with the cattle. It is also called Kaanum Pongal, where women pray for the well-being of their brothers. It is quite similar to the festivals of Raksha Bandhan and Bhai Dooj celebrated in North India.
In Maharashtra, married women are invited for 'Haldi-Kumkum' and given gifts of any utensil, which the woman of the house purchases on that day. A newly-wed woman gives away oil, cotton and sesame seeds to mark the auspicious day of Makar Sankranti. This ritual is believed to bestow long life and prosperity upon her and her family.
Though there could be several other legends associated with Pongal, these two are the most significant ones.