What is Karthigai Masam?
Karthigai Masam, or Karthika month (October-November), is the eighth month in the Tamil calendar and it gets its name from the Nakshatra (star), 'Krithika.' In 2019, Karthigai starts on November 17 and ends on December 16. The Mondays in this month are  dedicated to Lord Shiva. During this month, devotees observe Karthigai Somavara Vratam or Monday fast. A very important ritual in this month is the Karthigai Deepam. This is also the month when Ayyappa devotees start the 41-day Ayyappa Deeksha Vratham and take a pilgrimage to Sabarimala. When the sun passes through each of the 12 signs in the zodiac, the constellations which correspond to those signs in the cosmos will influence the creatures living on earth. During the month of Karthigai, the constellation of Pleaids exerts an influence through the signs Scorpio – Libra.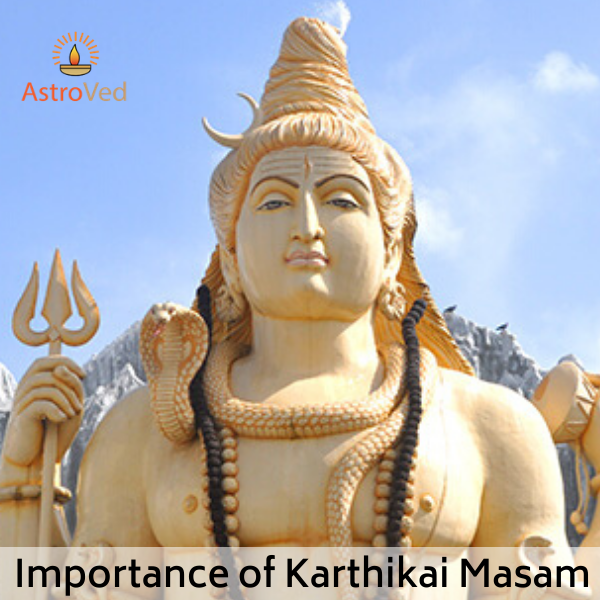 Karthigai Masam is believed to be the holiest month for Hindus. It is supposedly the favorite month for Lord Shiva and Vishnu. Many important festivals are celebrated during this month. Shiva, Vishnu and Karthikeya are worshipped in Karthigai month. In Karthigai Masam, neat rows of lighted diyas will be seen in front of houses and on the streets. On the day of Krithika star, people will start lighting these lamps and the practice is called Karthigai Deepam. In 2019, this will be on December 10.
Significance of the month's name
The month is also very important for devotees of Lord Muruga as the month derives its name from the six Krithika stars. The son of Lord Shiva, Muruga, was born as six different babies who later fused into one. The six babies were raised by the six Krithika stars. Later, Goddess Parvati fused the six babies to form one baby and he came to be called Shanmukha or Karthik or Muruga.
Important events in Karthigai Masam
Thiruvannamalai Deepam is one of the major events in Karthigai Masam. Hindus believe that Lord Shiva took the form of a pillar of fire with no beginning or end on this day. He assumed this form before Lord Vishnu and Lord Brahma. This form is also called Annamalai Deepam and it is observed at Thiruvannamalai. Yet another important event in Karthigai Masam is the Maha Bharani which is celebrated in Shiva temples. Bonfires are lit on this occasion. Mondays in Karthigai month are dedicated to Lord Shiva and are called Karthigai Somavaram. Karthigai Masam is also the month when the Sabarimala pilgrimage begins. The 41-day Vratam, called the Mandala Pooja, will begin during this period and the devotees undertake a pilgrimage to Sabarimala in this month. Karthigai Pournami is a very auspicious day and it is a full moon day. It's on December 11, 2019. Karthigai Amavasya or the new moon day comes on November 26.