Ganesh Chaturthi
Ganesh, or Ganesha, is one of the very widely worshiped Gods of the Hindu pantheon. According to legends, Ganesha incarnated on Chaturthi, the 4th lunar Day of Shukla Paksha, the waxing phase of the Moon, during the month of Bhadrapada, which corresponds to August-September. His Day of Advent, that is, his birthday, is celebrated in India and many parts of the world as Ganesh Chaturthi. In the current Year, Ganesh Chaturthi 2023 falls on Tuesday, September 19, 2023.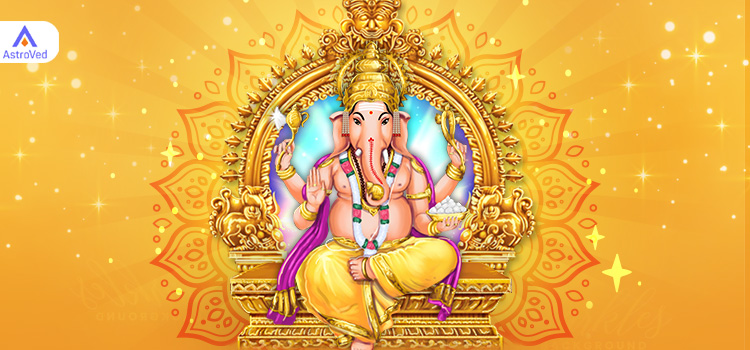 Lord Ganesha
Ganesha, hailed as the 'Prime Divinity,' is revered as the remover of obstacles and harbinger of success, who can bring good luck in the lives of his devotees. He is the Divine son of Lord Shiva and Goddess Parvati and the elder brother of Subrahmanya or Muruga. People also venerate him as the Lord of intellect and wisdom. He is also regarded as the provider of auspiciousness and the Lord of new beginnings; hence, it is customary to make any new beginning, start any auspicious event, or launch anything eventful in life with Ganesha worship.
Ganesha is also regarded as the chief of the army of Shiva's attendants, known as the Ganas, the mighty, semi-Divine beings, which has given him the name Ganapati.
He is known by other names, too, such as Vinayaka, Vigneshwara, Pillayar, etc.
Ganesh Chaturthi History
Ganesha is of a unique form, with the head of an elephant. Here is an interesting mythological story about how he became an elephant-headed God.
Parvati created a bright, sturdy youngster using sandal paste as her personal guard who would carry out her orders implicitly. Once, when she was bathing inside, and this boy was guarding the place with instructions not to let anyone in, Shiva, unaware of his spouse's new creation, came there and tried to enter the abode but was stopped by this young man. They got into a heated argument, and in a fit of rage, Shiva chopped off the boy's head.
Driven by extreme anguish and anger, Parvati turned herself into the furious Kali and vowed to destroy the universe to avenge the death of one dear to her like a son. Shiva realized the enormity of his thoughtless action, expressed regret, promised to bring him back to life, and directed his followers to bring the first head they got for replacing on the boy's trunk. And what they got was only a baby elephant's head, which Shiva placed on the youngster's torso and brought him back to life. Moreover, in order to atone for his cruel act and pacify his spouse further, he also made the elephant-faced young one the leader of his mighty Ganas. Thus, Ganesha, the dear son of Parvati, also became highly blessed by Shiva, too, and rose to become a much-revered deity in his own right.
People observe the occasion of his revival as Ganesh Chaturthi, his birthday. And they are set to celebrate Ganesh Chaturthi 2023 on September 19.  
Ganesh Chaturthi Significance
Ganesh Chaturthi is highly efficacious to propitiate Ganesha and receive his Divine blessings for wisdom, prosperity, success, good fortune, and auspiciousness in life. It is also a joyous occasion for families, relatives, and friends to get together and enjoy one another's company. Let us remember this as we celebrate Ganesh Chaturthi 2023.
Shubh Muhurat
It is Ganesh Chaturthi, so Chaturthi Thithi holds much significance in its observance. During Ganesh Chaturthi 2023, the Chaturthi extends from September 18, 1239 pm to September 19, 0143 pm, during which the auspicious time to install and consecrate the Ganesha idol remains the Madhyanha Muhurrat, the period from 11.01 am to 01.28 pm on September 19. People can install Ganesha images during this time. Besides, they should also avoid seeing the Moon from 09.45 am to 08.44 pm on the previous Day as per traditional beliefs and requirements.  
Ganesha Mantras
There are many Sacred Mantras dedicated to the obstacle-busting Ganesha; here are a few that people can chant with sincerity and faith on Ganesha Chaturthi and seek his birthday blessings:
'Om Gan Ganapatayae Namaha' – This is Ganesh Beej Mantra, the powerful seed sound that can remove obstacles and bestow good fortune.
'Om Ekadantaya Viddhamahe, Vakratundaya Dhimahi, Tanno Danti Prachodayath' – This is Ganesh Gayatri Mantra that can earn his immense grace for the devotees.
'Vakratunda Mahakaya, Surya Koti Samaprabaha, Nirvighnam Kurumedeva Sarva Karyeshu Sarvada' – This Mantra is in praise of Ganesha, which prays to him for the successful completion of all activities without impediments.
Ganesh Chaturthi 2023 – Celebrations
Ganesh Chaturthi is celebrated as a grand festival, especially in states like Maharashtra and many other places, extending for several days. Devotees can celebrate the festival in their own style with piety and enthusiasm. Here is a simple guide for Ganesh Chaturthi 2023 celebrations:
Clean and prepare the spot in all respects at home or public place, and install the Ganesha idol there at the auspicious time on September 19, Ganesh Chaturthi.
Perform Abishekam, that is, give the idol a holy bath and perform Pooja, chanting hymns, doing Archana, offering flowers, food oblations, and prayers. These can be done by devotees themselves or with the help of a priest.
Devotees can then sing Bhajans, devotional songs in praise of Ganesha. They can invite relatives, friends, and neighbors to join them and make it group singing.
According to beliefs, Ganesha is very fond of the delicacy Modak, the dumpling. People can offer Modaks as an oblation to him along with milk, fruits, and sweets.
Ganesh Pandals are common in many places, where they put up temporary structures like tents in public spots and install big and small statues of Ganesha along with other deities in them, make grand decorations, and offer worship. Devotees can visit such Pandals, offer prayers, and participate in the festivities.
At the end of the festival, which lasts for a maximum of 10 days, devotees can bid goodbye to Lord Ganesha with special Poojas, then carry the idols with all honors and do Visarjan, that is, immerse them respectfully in water bodies like the sea, rivers, lakes or ponds; requesting him to return to their homes the following Year and bestow them with peace and joy until then.
Come, let us all join and celebrate Ganesh Chaturthi 2023 with fervor and seek Ganesha's grace.