Avani Avittam – A sacred ritual for Brahmins
Avani Avittam is celebrated on the full moon day when Dhanishtha (Avittam) nakshatra falls on the Sravana month (August – September) of the Hindu calendar. It is on this day, every year, that Brahmins undergo a ritual to change their Upanayana thread. It is also known as Sravana Poornima or Upakramam. It is believed that reciting the Vedas on this day is very beneficial. In 2019, Avani Avittam falls on August 15. Avani Avittam is an important ritual for Brahmins in Kerala and Tamil Nadu. It is the also the day when Raksha Bandhan is celebrated. 'Avani' is the name for the 'Tamil month' and 'Avittam' is 'one among the 27 Nakshatras'.
Avani Avittam rituals
The Brahmin community all over the world performs the Avani Avittam ritual with great devotion. Brahmins begin reading the Vedas on this day and continue the ritual for the next six months. On Avani Avittam day, male Brahmins are given a holy thread which opens the eye of wisdom also called the 'third eye'.
On this day, Brahmins get up at sunrise and take a holy dip. The ritual begins with the Rishi Tharpanam (offering prayers to the ancient Rishis). Then they take a sacred vow or 'Mahasankalpam' to compensate the sins committed the previous year. Sacred mantras will be chanted at this time. Unmarried Brahmin men, after making the Mahasankalpam, do Samitha dhanam and kamo karshith japam. After this, Kaanda Rishi tharpanam will be performed with the help of priest.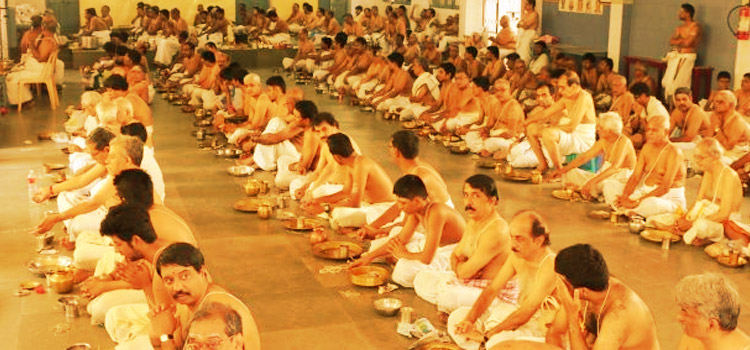 On Avani Avittam, male Brahmins wear the new sacred thread called 'Janeyu' or 'Yajnopavit'. The entire community may participate and the ritual is performed on the banks of a river or pond. Once the new thread is worn, the older one is discarded to mark new beginnings. The following day, after an early bath, 'Gayathri Japam' is chanted 1008 times. Homam is usually performed either in the house or at the temple.
As neivedyam for the Homam, green gram, dal or Kondai Kadalai Sundal are offered. A sumptuous feast comprising dishes like payasam, vada, rice, curd pachadi, kosumalli curry, koottu, buttermilk, rasam, dal, chips and appalams is prepared and served later.
The Significance of Avani Avittam
Avani Avittam festival signifies a new beginning in learning the Vedas. It is considered very auspicious as Lord Vishnu incarnated as Lord Hayagriva, the God of knowledge, on this day. It was Lord Hayagriva who recovered the Vedas which had been stolen by the demons, Madhu and Kaitabha, and returned them to Lord Brahma. So this day is also celebrated as 'Hayagriva Jayanti'. Avani Avittam holds immense importance to Yajur, Sama and Rig Vedic Brahmins. On this day, they express gratitude towards the Rishis for the spiritual knowledge and the ancestors for their existence. The day after Avani Avittam is celebrated as 'Gayatri Japam'. Avani Avittam is also celebrated in places like Orissa and Maharashtra. There it is called 'Janeyu Purnima' or 'Jandhyala Purnima'.